Our Executive Search Process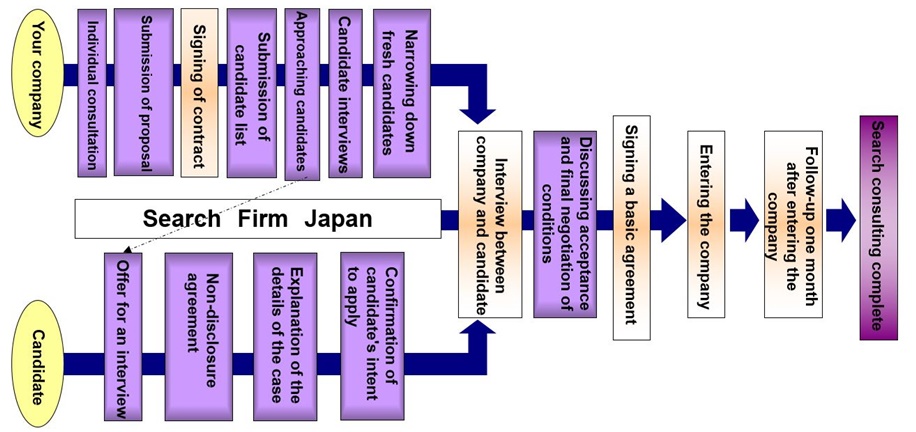 Individual Consultations and Submitting Proposals
Let us visit your company, hear about any management issues, recruitment issues, and an overview of the job offer, and explain our services (Executive Search/headhunting).
Rather than the details of a job offer consultation aimed at solving any issues, we propose an estimation of the cost of our scouting activities.
Gathering Information on Scouted Candidates and Submitting a List
We create lists of target candidates based on information about their achievements, track records and careers. The list is submitted within one to two months of signing the contract, and we narrow down the candidates with our contact in your company through careful scrutiny.

Beginning to Approach the Scouted Candidates and Offering Interviews
We begin approaching people based on the list of carefully scouted candidates, offering them an interview by letter or email.
If we receive a reply from candidates to whom we have sent information, exclusive interviews take place with one of our headhunters. In order to build a relationship of mutual trust with a candidate, it is normal for us to have several interviews with them. When we have created that relationship of mutual trust, and made the judgement that they are an appropriately talented person, we disclose the name of your corporation after a non-disclosure agreement has been signed, and explain the details of the case.
Confirming the Evaluation of a Candidate's Eligibility and Intentions
We keep in mind the management philosophies and various values and attitudes of the company the candidate is to be introduced to, and focus on a recommended candidate after investigating not just their abilities but also the compatibility of their personality.

Meeting the Recommended Candidate (interview)
When we have confirmation of both the candidate's and the company's intention to proceed, an introduction takes place. Due to the nature of our scouting and searching style, our interview is carried out in the form of a face-to-face discussion, to deepen mutual understanding.
From Declaring Intent to Create an Employment Agreement to Starting Work
If, after the interview, both parties have gained a mutual understanding and feel positively about each other, we carry out negotiations and discussions concerning employment conditions, and present them to the candidate. Should the candidate agree, this becomes the employment agreement.
We subsequently carry out a follow-up to confirm the smooth entry of the candidate into the company. We like to contact those involved after the candidate has been accepted into the company in order to make sure they have settled in and are working. This series of steps is the flow of our Executive Search (headhunting) service at Search Firm Japan.